Vehicle crashes into tree after failing to stop for police in Widley car chase
It's understood police attempted to stop the vehicle on a routine traffic stop in Widley shortly after 11.30am, when the driver failed to stop causing the police to initiate a pursuit.
The occupants of the vehicle then crashed into a tree at Portsmouth Golf Course on Crookhorn Lane, Widley.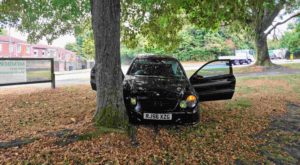 The occupants decamped from the vehicle and pursuing officers gave chase on foot, ground officers placed a containment around the area and started an area search.
Officers later detained a male they believe was involved in the incident, who was subsequently arrested in relation to the incident.
Police have arranged recovery of the vehicle and a full forensic investigation will now be carried out to identify the driver.