Photo credit @sean321988
Basingstoke firefighters called to a car fire on the M3 shortly before midday
Two crews tackled the blaze on the southbound carriageway between junction 8 and 9.
The carriageway was closed as the crews extinguished the fire which destroyed the vehicle.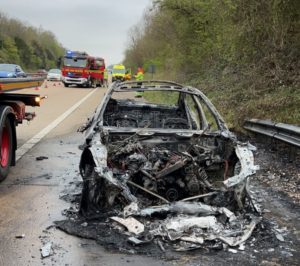 HIWFRS performed Immediate Emergency Care on one casualty suffering from smoke inhalation, before he was handed into the care of South Central Ambulance Service paramedics.
A recovery company removed the vehicle after the fire had been stopped using hose reels.
The stop message came in at 12:34.