On the first anniversary of Otas Sarkus' murder, Crimestoppers is supporting the investigation by doubling our reward to help find those responsible for his killing in Newham last year
Otas was shot twice in the head on Raymond Road, E13 at around 10.50pm on Wednesday, 18 August, 2021.
The 20-year-old, who lived in Plaistow, was rushed to hospital after the attack, but sadly died a few days later. A second man, who was 18 at the time, was also found injured nearby on a Route 238 bus on Plashet Grove. He was taken to hospital, where his condition was assessed as not life-threatening.
Two men have been charged with the murder of Otas Sarkus and pleaded not guilty during a hearing at the Old Bailey. A trial is set for November 2022. In total, six men have been arrested. Police plan to be in the area of the killing as part of an anniversary appeal for witnesses.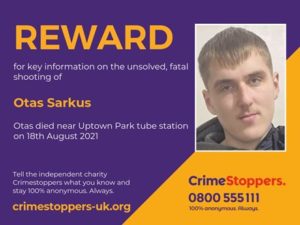 Crimestoppers is supporting the investigation by offering a reward of up to £20,000 for anonymous information they exclusively receive – either online or by calling freephone 0800 555 111 – that leads to the conviction of those responsible.
Crimestoppers charity – which is independent of the police – guarantees total anonymity to everyone who contacts them. They never ask for or store personal details such as names, addresses or contact details. All they want to know is what you know.
Speaking with Crimestoppers they said:
"We are seeking justice for this young man, as well as his family and friends, who are devastated after his murder. By supporting the investigation and doubling our reward, we are reaching out to anyone who knows who was responsible to come forward. You can say what you know without giving any personal details at all.
"It's impossible to imagine how this young man's family and friends must be feeling, along with the wider community in Newham. Please, if you know something, then call us on 0800 555 111 or fill in our simple and secure anonymous online form here on our website. Your information could make all the difference."
Alexa Loukas, London Regional Manager, Crimestoppers
Computer IP addresses are never traced and no-one will ever know you contacted Crimestoppers. For telephone calls, there is no caller line display, no 1471 facility and Crimestoppers never trace a call.
To see if you are eligible for the reward, you must visit the Crimestoppers website, use the 'Keeping in Contact' portal, request a reward code and then log back in 24 hours later to obtain a unique code. You'll be asked to check with them two months later with the reward code to see if there has been a positive result.
***Information passed directly to the police will not qualify for a Crimestoppers reward. Only information passed to Crimestoppers – using our charity's simple and secure anonymous online form or via our 0800 555 111 freephone number – will qualify***
Alternatively, if you are willing to give your personal details to the police (the reward will not apply), please contact the Metropolitan Police by calling the incident room on 020 8358 1010 or visit their website https://mipp.police.uk/operation/01MPS21S82-PO1 to submit any photos, footage or information directly to the police which could assist the investigation.